WHO WE ARE
The mission of REACH is to connect with our neighbors by connecting them to those in need around our community, city, and world.
REACH Update! Please read...

And together, what a difference we have made for our mission partners! Over the past 9 years, we've collected more than:
12 tons of food • 12,000 rolls of toilet paper • 25,000 school supplies •
5,000 other items such as coats, bed sheets, socks/underwear and cleaning supplies
However, due to COVID-19, we have decided to put our REACH efforts on hold for the next 12 months or until we are all able to move about without restrictions or fear of putting any of our neighbors in danger of transmitting the virus. We will however, be doing monthly Food Pantry collections for which we welcome your participation. Watch for the signs at our parking lot entrances and then either drop your donations at our front doors or bring them when our mission partner's truck arrives.
Click the Save the Date option to view the currently scheduled upcoming events
October REACH Mission Project of the Month Was Huge Success!
THANK YOU!!!
You all were so generous that, quite frankly, we couldn't keep up with the number of blankets you donated so we'll have to wait a few days for MLM to provide an official count. The picture above was taken Saturday evening right before the 5pm service and all of the blankets that had come in prior to the weekend services hadn't even been loaded yet! Then Sunday morning we received even more! And believe it or not, they're still coming in! If you would still like to donate but weren't able to make it this past weekend or forgot, please feel free to leave new King or Queen-size blankets on the shelves outside of room 103 or in the REACH barrel.
Save the Date For These Upcoming Events
October 10th/11th – Collecting brand new King and Full/Queen blankets for the MLM Christmas store
November 7th/8th – Collecting non-perishable food for the New Hope Food Pantry
December – listen for the announcement coming soon
November REACH Collection: Non-Perishable Food for New Hope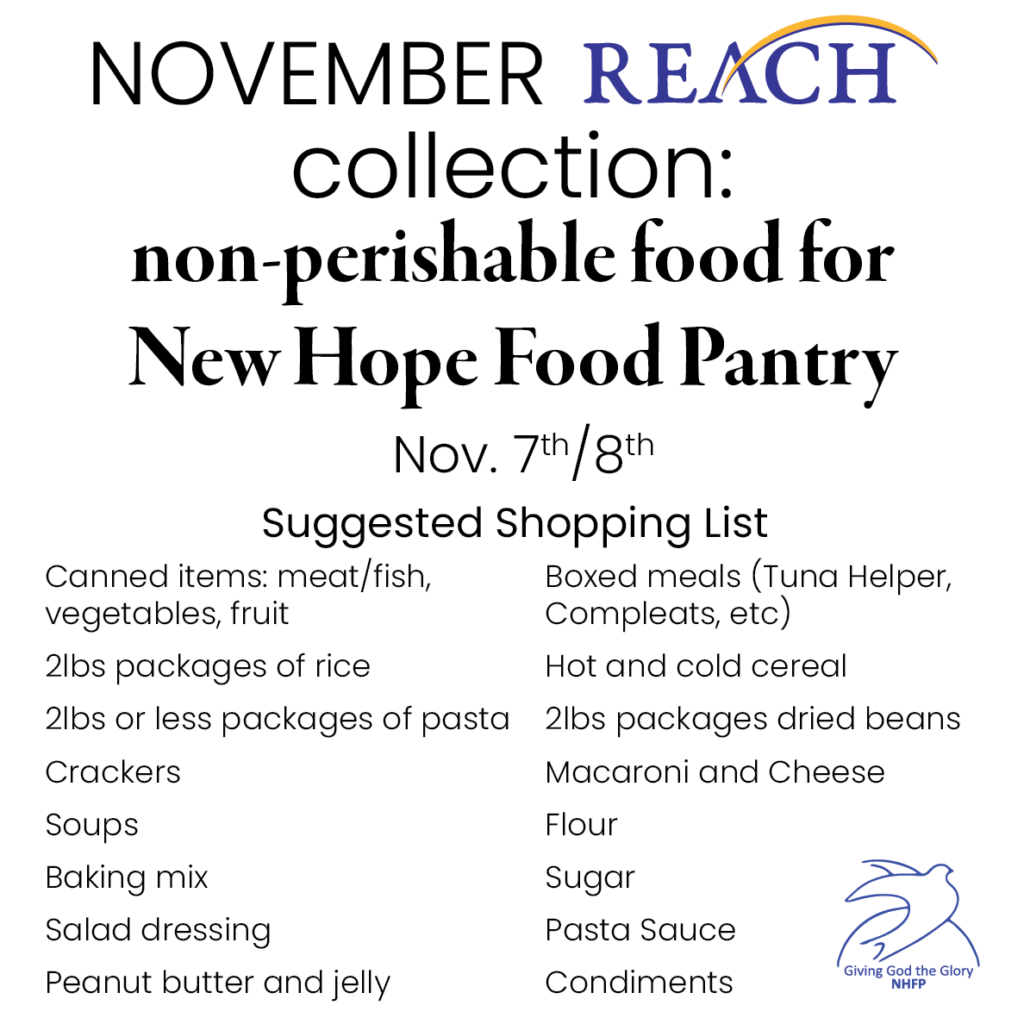 How We Accomplish Our Mission
Three various times each year, the REACH team will direct three different collections or campaigns benefitting three different mission partners. Each of the collections will endeavor to encourage each member to "touch something" that could include but not limited to:
Help design the campaign card/flyer/invitation
Assist with invitation assembly
Provide snacks/water for distribution and/or collection weekends
Help distribute invitations to our neighbors
Provide lunch for invitation distribution day
Help collect items provided by our neighbors
Assist with setup for item sorting event
Assist with the sorting event as a family/individual
Write thank you notes to our neighbors who donated items
Deliver the donated items to one or more of our mission partners
Do your own mini-REACH collection in your own neighborhood – distribute invitations in your own neighborhood, collect the items, send thank you notes to your neighbors who donated items
Join the REACH Leadership Team
You will be my witnesses in Jerusalem and in all Judea and Samaria, and to the end of the earth.
Acts 1:8